The Saturday before Thanksgiving, Pennsylvania State Senator Doug Mastriano was hard at work. (Article by Jeffrey Lord republished from
NewsBusters.org
) The conservative Republican legislator had organized a bicameral legislative hearing with Republican representatives and senators. The State Senate Republican Policy Committee met in open session to investigate what happened in the Pennsylvania election. Trump campaign lawyers Rudy Giuliani and Jenna Ellis testified in person to the hearing, which was held in the famous town in Mastriano's district - Gettysburg. For awhile it was thought President Trump himself might appear, but that idea was later changed to a presidential phone call that was broadcast to the committee and the public in the room. But the real stars of the day were the over a dozen witnesses who testified in detail about their experiences as poll workers in Philadelphia, Pittsburgh and various Philadelphia suburban counties. There was one story after another from these people about how they were physically blocked from observing ballots, forced to stand behind metal barriers where they could not possibly see the ballots up close, or being escorted out of the building by police. Again, the star of the hearing was  Senator Mastriano. And, but of course, he tweeted about the hearing and its findings. Then this, as headlined over there at 
The Epoch Times:
Pennsylvania Senator Suspended by Twitter After Election Hearing Speaks Out
The story said, in part, this:
A Pennsylvania state senator whose Twitter account was suspended says he's being censored. Twitter suspended the personal account of State Sen. Doug Mastriano, a Republican, on Wednesday after lawmakers held a hearing on election issues per his request. Twitter, based in California, left Mastriano's official Senate account alone. Speaking about the matter for the first time, Mastriano on Friday said: 'This censorship is unacceptable in America. A nation that I served for most of my adult life…' 'The point of Twitter suspending this personal account is to prevent me from posting to my Senate account—to silence our voice,' he added in a tweet. Mastriano is a retired military colonel and combat veteran. He retired from the U.S. Army in 2018 after 30 years of active duty. A Twitter spokesperson told The Epoch Times in an emailed statement: 'This account was mistakenly suspended for perceived violations of our impersonation policy. This was an error. We have immediately reversed the decision and the account has been reinstated.' Mastriano's personal account was offline for over 24 hours."
This censorship business is out of control. Not to mention the business of double standards. In the case of the latter, it doesn't get any more vivid than 
this column 
in 
The Washington Post
:
As Americans prepare to gather for Thanksgiving, the world watches with dread and disbelief
The story begins:
"Foreign observers are watching with trepidation — and at times disbelief — as coronavirus cases surge across the United States, and masses of Americans are choosing to follow through with plans to visit family and friends for this week's Thanksgiving holiday anyway."
Drew Holden, a Washington public relations consultant, posted this side-by-side on Twitter 
with another headline 
from
 The Post
 earlier in the month. The headline:
Celebrations erupt after Biden-Harris election victory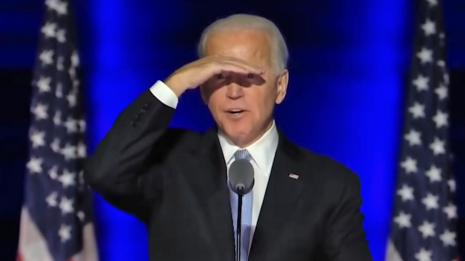 This story began:
"Almost as soon as television networks called the presidential race Saturday morning for former vice president Joe Biden, his supporters began flocking to the streets. The celebrations that ensued — unbridled jubilation, dancing, singing and chanting — represented a release of emotions after an excruciating four-day wait for the election results, but also of a release of four years of pent-up frustration and anger at President Trump, some said."
Got that? It's horrific that Americans traveled to see family and friends for Thanksgiving - but its pure joy that Biden supporters were "flocking to the streets" in celebrations that  featured "unbridled jubilation, dancing, singing and chanting." What's clearly evident in both the Twitter censorship of Senator Mastriano and 
The Post'
s brazen double standards is that neither Twitter nor 
The Post
 care. Anything that displeases Twitter will be blatantly censored, and anything that displeases 
The Post
 will be reported on negatively - unless the activity in question pleases the liberal agenda, in which case who cares about double-standards on display? The thought that all of this kind of behavior by Big Tech and the liberal media outlets like 
The Post
 will somehow go away in a Biden presidency-era is a fantasy. Doubtless this problem will get worse as any criticism of Biden will be taken down,  and the new President and his supporters never held to account for anything in the fashion that Trump and his supporters were held to account. Or in other words? To borrow from Joe Biden, America's long dark winter of censorship and double standards is at hand. Read more at: 
NewsBusters.org
 and
Biased.news